His first name was Charles, but everyone called him Pete.
Apollo 12 astronaut, Charles "Pete"
Conrad was selected as part of NASA's second class of astronauts,
known as the "Next Nine." An accomplished naval aviator with a degree in aeronautical engineering
from Princeton, Conrad was known for his colorful personality and sense of humor.
A veteran
of four space missions, Conrad's astronaut career spanned the Gemini, Apollo and Skylab
programs. He set space endurance and altitude records during his flights on Gemini V and XI. He also led
the second Moon landing as commander of Apollo 12. On his fina
l mission, he served as commander of
Skylab 2, America's first space station. But Conrad's many achievements did not come easily. He had to
overcome many obstacles on his road to the stars, including a significant learning disability.
A Challenging Childhood
As a young man growing up in Philadelphia, Pete Conrad
struggled in school. Though he excelled at
mechanical tasks,
Pete had "dyslexia," a learning disorder which made reading
and writing difficult.
When he was sixteen, Conrad
was expelled
from the very
traditional Haverford School
in Pennsylvania
,
where he was perceived as a poor
student
. He transferred
to the more hands
-
on Darrow Boarding
School. There,
he made an amazing turnaround. By the time he graduated
from Darrow in 1949 on a
Navy scholarship to
Princeton, Pete
made the honor roll, was elected class president, and despite
being
the smallest guy on the squad, became captain of the
football team.
From Jets to Rockets
Like most of the United States' first astronauts, Pete Conrad began his
career as a
military aviator.
He
earned his naval aviator wings on September
24, 1954. He flew F9F
-
8 Cougars with squadron VF
-
43. He
went on to attend the
Navy Test Pilot School at Patuxent River, Maryland in 1958 and became a project
pilot and flight instructor.
Con
rad received an invitation to apply for the Mercury program in 1958. He
and 31 other military test
pilots went through a series of medical tests to selec t
the United States' first astronauts. Pete grew
frustrated with what he considered
to be the overly in
trusive nature of the testing, and was not shy
about voicing his
disapproval. This led the flight surgeons to deem his attitude "not fit for long
duration
space flight," rejecting him from the Mercury program.
Little did those doctors know that Pete would
try again in 1962, and be selected
for NASA's second class
of astronauts. He went on to set a space endurance record
during his first Gemini mission, and again
aboard the Skylab space station.
He is perhaps best known as the commander of Apollo 12, the sec
ond
mission to land on the Moon, and the first to make a precision landing.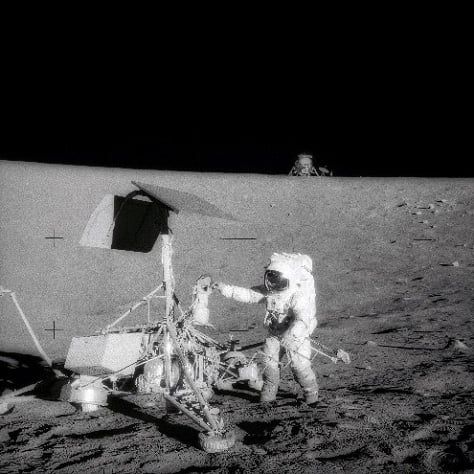 Though Pete's Apollo mission didn't bring a rover, later ones did, and the Museum has an engineering mock-up, built by Boeing in 1971. Find out more about it with our Senior Curator Matthew Burchette in our latest video.