The B-17 has seen its fair share of stories during its illustrious history. At The Museum of Flight, we are blessed to have the only flyable B-17F model in the world, and we're proud to showcase it to our visitors. People often have questions about the specifications of the bomber, and what distinguishes it from other aircraft. Or sometimes they wonder about the stories and experiences pilots had on missions. Here is the history of the B-17 and the World War II experiences of an esteemed pilot.
B-17F Specifications and History
Our B-17 is an F model, which means it has a multitude of differences from the subsequent G model. For instance, the G model's engines were switched out for more fuel-efficient engines and the aircraft's door and gun positions were changed for ease of use.
This F model was manufactured in Seattle, just a mile north of the Museum, on February 13, 1943. From here, the Air Force accepted our aircraft as 42-29782, and it went on to train many pilots in California and Washington state. In 1944, 42-29782 went to Britain and stayed there for three months. Upon returning to the United States, our F model stayed in Florida for the remainder of WWII. Finally, on November 5, 1945, 42-29782 was removed from service and shipped to Oklahoma.
After being sold by the United States government and doing a variety of commercial aviation tasks such as aerial spraying to combat forest fires, the 42-29782 received a new serial number and became known as the N17W.
In 1968, N17W began a movie career, appearing in 1,000 Plane Raid, Tora Tora Tora, and most notably, Memphis Belle. The movie career would end in 1989 after more than 50 hours of flight on the Memphis Belle set.
Afterward, ownership of N17W changed and the plane ended up at The Museum of Flight in 1991 when its restoration began.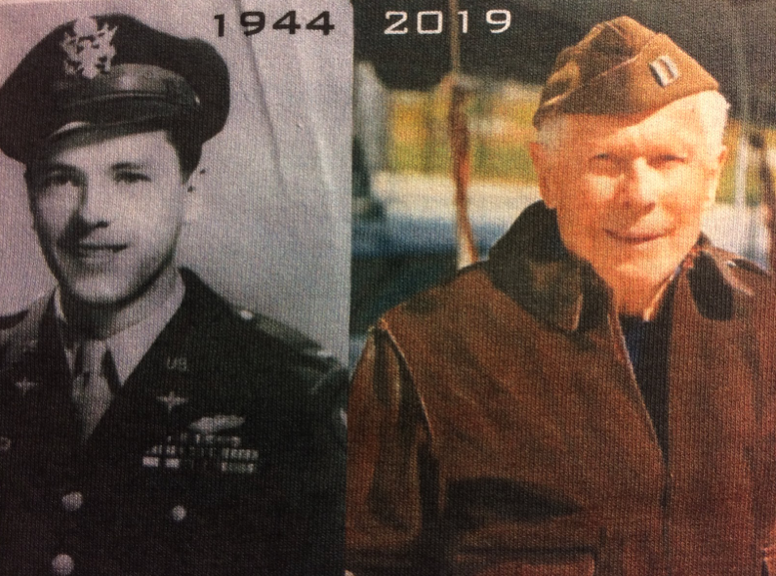 "Like a Wood Duck in a Shooting Gallery"
Throughout Dick Nelms' days as a World War II B-17 Captain, he witnessed moments of both horror, but also humor, that only a handful of others have experienced themselves. For Nelms, the most important skill that kept him alive was keeping his fear under control.
He recalls one flight over Germany in vivid detail.
"The first burst came up right underneath my airplane, bounced like a speed bump in a car, with a loud roar. It scared me. I couldn't get over it. I tried everything. Finally, I actually became embarrassed and ashamed of myself and that did it. I said to myself, 'Now stop it, stop it. We've been well trained, we're up here to prove you can do this operation with the rest of the guys, so get with it.' I had traded fear for defiance and became angry. About that time, a shell burst out here about 11 o'clock, a little higher than us, couldn't have been 100 feet away. We immediately went underneath the concussion. I remembered I said, 'You missed me!' What are you going to do? You get tired of feeling like a wood duck in a shooting gallery. Then I called my ball turret and radioman that went right over that first burst. I said, 'Pilot to ball, over, you okay?' The ball gunner says, 'Yeah, but can you be a little more careful out there!?' And then the radioman came in and said, 'I'm okay too in case anybody's interested.' These guys are kidding and we're up there getting shot at. Crazy guys."
During another mission, Nelms was flying in formation. The formation ended up getting some negative attention from the Germans.
"I was 5 and a close friend of mine was 2 [referring to formation orientation]. He got a direct hit in his left wing root. It knocked an engine off, hundreds of gallons exploded, most of the wing fell off, but the right wing still had two engines wanting to fly. So he got into this weird corkscrew spin and went down on top of me. I expected his plane to hit me. He went all the way down, spinning and nobody got out. I had breakfast with him that morning, good friend. So that's what happens once in a while."
Tours
Visitors can take tours of the B-17F in the Aviation Pavilion where trained and knowledgeable docents discuss the aircraft and its history during wartime. To complement the tour, there are many artifacts on display beside the B-17F, such as gloves, models, and mechanisms to illustrate the plane's colorful story.
In addition to the tours, Dick Nelms recalls his experiences during WWII every Saturday in front of the B-17. Stop by to listen to his stories and admire the aircraft at the center of his WWII experiences.
Plan your visit to our B-17 today!