While there are many opportunities within the aviation industry, there is a shortage of diverse candidates ready to fill entry and upper level positions. Those that identify as female and/or from marginalized communities have historically been the furthest from employment opportunities. Subsequently, diversity is minimal and requires much effort to boost the candidate pool. The Boeing Academy for STEM Learning cultivates diversity and prioritizes a culture of inclusion by promoting an interest in space, flight and engineering pathways to underserved students in grades K-12 and offering enrollment in our educational programing. Through inspiration, exploration and the ability to earn high school as well as college credit, we've created a home for students to become ambitious in their goals.
As Education Community Relations Officer, I network with the broader community to inform, engage and attract new audiences to The Museum of Flight. My goal is to influence at all levels to widen perceptions about who can contribute to the field and solve the industry's looming employment shortages. I manage over 500 external partners statewide, producing introductory programming like: STEM Together that engages families, Lashes N' Lab Coats which targets girls and connects them to female aviators, Latina/o/x In Aviation that celebrates identity, and Outdoor Movie Night which builds awareness. The doors are open. We all have to be bold enough to walk through them and prepare for a future with these students (young professionals) in mind.
Accountability, awareness, access and partnerships are all needed to move the needle. Relationships are key; we are not only recruiting the students but enticing all whom they are connected to. From formal educators and the administration who govern them to informal educators, parents, community based organizations, local governments, businesses, colleges and religious institutions—all are a part of a child's village and necessitate a profound, unique, relationship. To be present in a community is continually showing up, extending invitations, learning how decisions are made, where you fit, the added value you bring, and the intersection of where your work meets a need. I am a guest in communities outside of my own; I recognize my privilege, the privilege of the institution I am representing, and the history of the fields I am promoting. I bring modesty and optimism to the work that I do.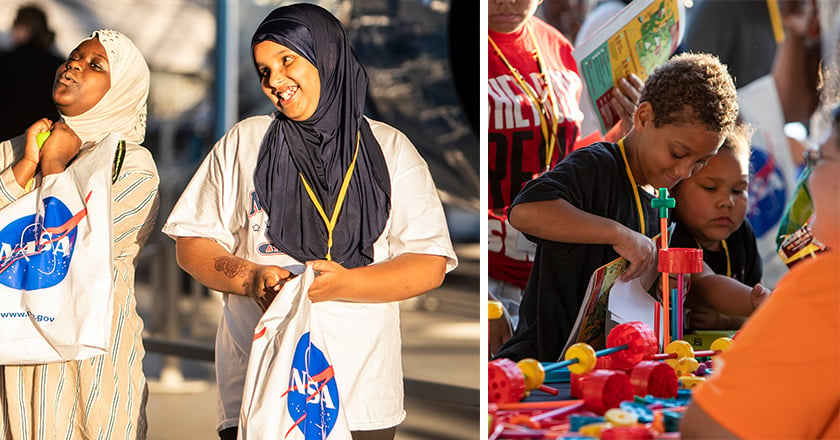 [Top Image and Above: Students engaging in STEM activities and info tables at the 2019 Outdoor Movie Night. / JACQIE CALLAHAN]
The students we are targeting are growing into the men and women of our future—the engineers, explorers, pilots, scientists, and leaders that will move aviation forward in coming decades. I rely heavily on identity-based affinity groups, professionals of color, industry partners and my leadership team to tell an inspirational story of aviation and create a welcoming environment. I am confident that the stories told will inspire at least one student to pursue their dreams of an aviation/aerospace pathway. When intentions are transparent and expectations met, trust is built, access granted, and we can then grow student participation. We are looking forward to seeing these children become gainfully employed at all levels and facets of the field. The time is now!
By: LaNiqua Bell, Education Community Relations Officer
Photos: Jacqie Callahan
As published in the 2021 Winter Issue of Aloft Magazine, the Museum's quarterly member magazine. To see the full Winter issue and past issues of Aloft Magazine, Click Here.